Finally, an easier way to prevent unauthorized data access and data theft with an enterprise browser
Remote employees and contractors are by far the largest risk for losing sensitive company data and compromising corporate identities. Now you can secure the source with the Mammoth Enterprise Access Browser and get complete visibility and control for secure remote access.
Download the White Paper to learn all about the Enterprise Access Browser
Join us at FS-ISAC: 2023 FinCyber Today Summit in Orlando, FL
October 1–4, 2023
Mammoth Cyber wins Red Herring 2022 Top Global 100 Award
The Mammoth Cyber Advantage
Mammoth Cyber's Enterprise Access Browser allows companies to prevent data theft and solve remote access problems while improving security posture, driving compliance, accelerating deployment and simplifying policy management.
Improve security posture with complete control over the access and actions of remote employees, 3rd party contractors and partners.
Prevent data theft and drive compliance to industry mandates with visibility and audit logs for user behavior.
Seamless user experience for both security admins and end users enhances productivity and increases adoption with unsurpassed ease of use and a simple deployment.
Enable the shift to a zero-trust security architecture with visibility and control at a critical access point.
The Enterprise Access Browser enforces conditional access criteria before allowing remote access to critical company resources in the cloud, on-prem and in SaaS services, and provides a complete audit log of user actions.
Built on the Chromium code base, the browser acts just as any user would expect, but now a policy engine built on top of the browser provides control over data upload and download, copy and paste, printing and more.
Use Cases for the Enterprise Access Browser
Lower cost, simplify management, and provide a more secure alternative to VDI
Dramatically improve user experience while lowering costs and simplifying operations for security and IT practitioners.
Secure remote access for remote employees, 3rd party contractors and partners
The Mammoth Cyber EAB provides conditional access to company resources with complete visibility and control over user behavior.
Secure DevOps and infrastructure access
Secure cloud infrastructure access for developers with multiple access methods and target applications including SSH, RDP, Kubernetes and GitHub (R).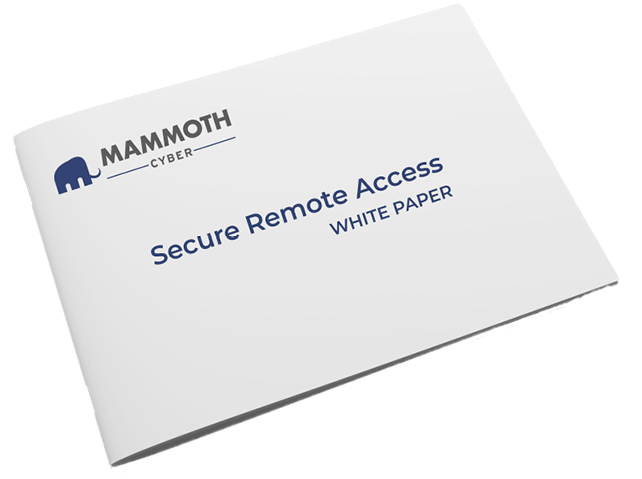 Enterprises around the world are relying on remote employees, contract workers and partner organizations to meet their staffing needs on an unprecedented scale. Though companies have tried to sequester contract workers and remote employees for obvious security reasons, the modern digital economy dictates that these workers need access to corporate cloud infrastructure, saas and internal applications, and sensitive business data in order to do their jobs.
Securing access for external contractors and partners has been a longstanding security risk that requires a modern solution.